I attended the 15th annual SEMANTiCS conference this week for the first time. Semantics means "meaning" in language, and in the context of taxonomies and other controlled vocabularies (knowledge organization systems) semantics is a given. We taxonomists don't concentrate on the topic of semantics that much, because it's a basic characteristic of knowledge organization systems, which focus on concepts and their meanings, rather than just words. Tagging/indexing with a taxonomy or other kind of knowledge organization system may even be called "semantic enrichment." Semantics is not a given, however, in related areas of information technology and data science, but more awareness and interest in how technology and semantics can support each other,  for better utilization of information, is growing, as this conference demonstrates. These may include technologies and standards of the Semantic Web, but uses go beyond the Web to include various internal enterprise applications.


SEMANTiCS is a European conference that rotates in different cities This year the conference was in Karlsruhe, Germany, for the first time, which turns out to be somewhat of a technology center. Before I went, someone told me to expect European conferences which are not merely spinoffs of American conferences to be different, with perhaps less intermingling, socializing, and networking. That was certainly not the case. I found the attendees, whether German or from other European countries, to be very friendly and open to speaking with and connecting with new colleagues, whether myself or others. So, it was definitely a good networking opportunity.
The SEMANTiCS conference is more in the area of information technology and data science than in fields of content/knowledge management, where we taxonomists tend to be, but, of course, it was not just about technology, but rather about the added "semantic layer." What I liked is that it brought together taxonomists (I was not the only one) with those who work in technology (software developers, solutions architects, computer scientists, data scientists, etc.). The theme of the conference is knowledge graphs and AI, which have also become themes of the Taxonomy Boot Camp conferences recently. Ontologies, another specialty that bridges the work of taxonomists and computer scientists, were also a focus of this conference. Other topics included machine learning, data governance, and knowledge management.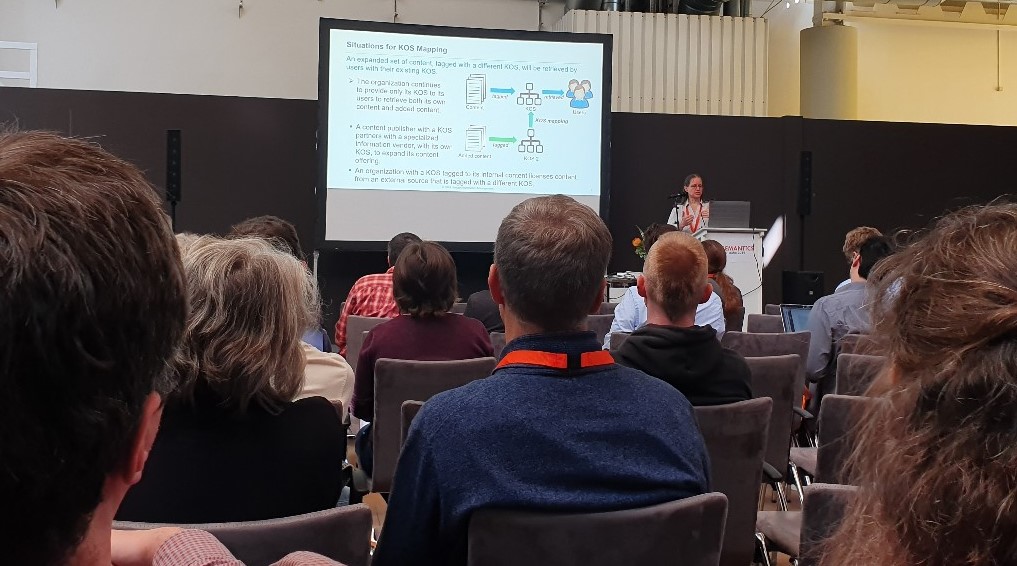 The SEMANTiCS conference is somewhat unique in how it bridges both industry and academia. It has both industry presentations and academic papers, each with separate conference chairs/review committees, and with academic papers to be published as conference proceedings , yet the presentations were not in separate tracks, and both industry and academic presentations were combined into the same sessions by theme. Session themes included knowledge graphs, natural language processing, semantic information management, knowledge discovery & semantic search, knowledge extraction, data integration, and also thesaurus & ontology management (in which I presented). There were also subject-themed tracks on legal technology and on digital humanities/cultural heritage. In each time slot were five consecutive sessions.
SEMANTiCS is not put on by an event company, but is rather a collaborative effort of several organizations, companies and educational institutions, with some variation, depending on the location. The Semantic Web Company has been a consistent organizer/sponsor. Others this year included FIZ Karlsruhe and several European universities.
By the numbers, the conference had 472 registered attendees and 25 sponsors, of which 15 were also exhibitors. There were 37 industry presentations, 28 academic paper presentations, 5 keynote/plenary presentations, 2 invited talks, 1 panel discussion, 31 posters, and 9 preconference workshops/tutorials. This was the largest SEMANTiCS conference to date.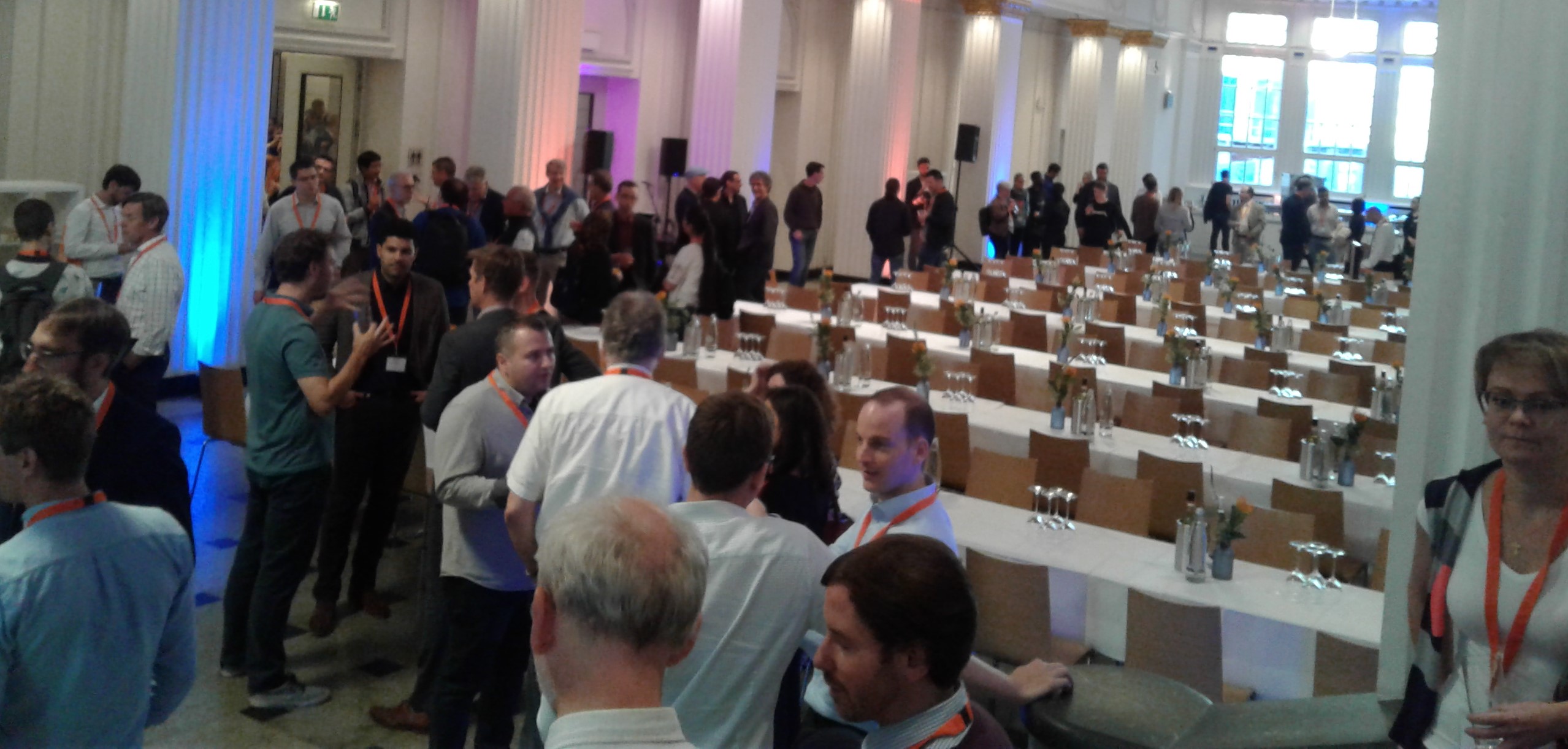 Attendees arriving for the SEMANTiCS conference dinner
Particularly exciting was the announcement that, in additional to next September's conference in Amsterdam, for the first time SEMANTiCS will come to the United States, scheduled for April 21-23 in Austin, Texas: SEMANTiCS Austin 2020. (Call for proposals due November 8.) Lead organizers are the Semantic Web Company and Enterprise Knowledge. The conference won't be identical to the European version, as it will not have academic papers, but it promises to be very interesting and informative, and I plan to be there.