Upcoming Events 2022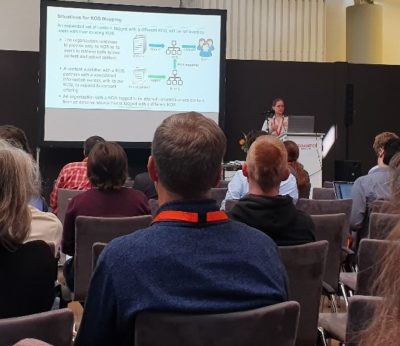 "Knowledge Engineering of Taxonomies, Thesauri, and Ontologies" half-day (morning) tutorial
Description: This tutorial teaches the fundamentals and best practices for creating quality taxonomies, thesauri, and ontologies, whether for the enterprise or for specific knowledge bases in any industry. Emphasis will be on serving users and use cases, rather than on theory. Topics to be covered include: different kinds of knowledge organization systems (taxonomies, thesauri, ontologies, etc.) their differences and their benefits and suitability for different purposes, Semantic Web standards and other standards, thesaurus/taxonomy concept creation, thesaurus/taxonomy relationship creation, ontology modeling basics, linking knowledge organization systems, and enriching a taxonomy or thesaurus to become an ontology and a knowledge graph.
Date: Tuesday, September 13, 9:45 -13:00 CEST
Format: In-person (and hybrid)
Organizer: SEMANTiCS 2022
Location: Vienna, Austria
Detailed description
"Practical Tips for Setting up Taxonomy Governance"
Description: We all know the importance of creating a well-designed taxonomy, but if it is not maintained properly, over time its quality and value will decline. Governance comprises the policies, guidelines, and procedures for the design, implementation, and maintenance of a taxonomy.  This introduction to taxonomy governance addresses its scope and issues. Specifically, taxonomy policies and guidelines include criteria of including new concepts, editorial style for labels,  guidelines for relationships and alternative label creation, and workflow procedures.
Date: Wednesday, October 12, 11:00 – 11:45 am EDT / 14:00 – 14:45 BST
Format: Online (Zoom)
Organizer: Bite-sized (virtual) Taxonomy Boot Camp London
"Enhancing Your SharePoint Term Store Taxonomy and Tagging"
Description: Are you wondering how you can get more value from tagging in SharePoint? The Term Store is more than just a place to store terms or metadata. Full taxonomies with browsable hierarchies, search-support synonyms, definitions, multilingual terms can be supported and utilized in multiple ways. Leveraging a taxonomy's benefits, however, requires creating a taxonomy according to best practices and standards and applying the terms with consistent tagging policies. This session will provide tips for creating better taxonomies, recommendations for enterprise taxonomy governance, and a solution for auto-tagging integration with the SharePoint Term Store to ensure efficient, comprehensive, and consistent tagging, which results in improved content findability and user satisfaction.
Date: Friday, October 14, 3:45 – 4:45 CDT
Format: In-person (and hybrid)
Organizer: North American Collaboration Summit
Location: Branson, Missouri
"Using Taxonomies and Tagging to Connect Content Across the Enterprise" half-day workshop
Description: Content management systems provide support for taxonomies to tag content for retrieval within those systems. But to break down information silos and make content searchable and discoverable across the organization, an enterprise taxonomy is needed. This workshop discusses methods and best practices for building and applying enterprise taxonomies. Methods include brainstorming workshops, stakeholder interviewers, manual content analysis and automated text extraction-based analysis. Best practices include following standards for hierarchical relationships using suitable labels and synonyms for taxonomy concepts and using the right taxonomy structures. The technology solution is to manage the taxonomy in a dedicated tool that uses standard interoperability formats and connects with other systems by APIs, with support for auto-tagging. The workshop includes interactive exercises of cardsorting, hierarchical relationship and alternative label creation, and a manual tagging.
Date: Sunday, October 23, 1:00 – 5:00 pm, CDT
Format: In-person
Organizer: LavaCon
Location: New Orleans, LA
Detailed description
"Taxonomy 101 Workshop"
This introductory taxonomy tutorial covers key concepts to get you up-to-speed for the rest of the conference or helps prepare you to take on a role in a taxonomy project. Topics include the various uses and benefits of taxonomies, comparisons, and suitable applications of different types of taxonomies/controlled vocabularies (hierarchical, faceted, thesauri, and ontologies); taxonomy standards; the relationship of taxonomies to metadata; sources for taxonomy concepts; best practices for developing terms and their relationships; and tools for creating and managing taxonomies.
Date: Monday, November 7, 10:15 am – 12:00 pm
and
"Taxonomy Breaking Down Silos: Taxonomy Linking"
This joint presentation case study discuss the principles of taxonomy linking and Harvard Business School's hub-and-spoke model of bridging across multiple taxonomies to create a single unified view and the challenges of building and maintaining this model for the HBS Knowledge Site.
Date: Tuesday, November 8, 10:15 am – 12:00 pm.
Format: In-person
Organizer: Taxonomy Boot Camp
Location: Washington, DC
"Semantic Search: Implementations in Your Enterprise"
Defining the scope of enterprise search is a challenge for companies that have extensive product documentation, such as software companies. Searching product documentation needs to be part of a larger knowledge hub, but this also needs to be enabled separately for external users. The different front-end applications can pull from different content repositories, but it may be more practical to have a single taxonomy and search technology. This presentation gives some tips and issues in setting up a combined knowledge hub and help pages search at a software company. Following a brief description of the technology used, she addresses the issues of having separate or combine taxonomies, search refinements/facets for different audiences, search suggest topics with context, and recommendations for related content.
"Taxonomy and Metadata Design" 8-hour workshop
Dates: November 14-15, 8:00 am – 12:00 noon EST each day
Format: online on Zoom
Organizer: Technology Transfer S.r.l.
Detailed description

---
Book Sale and Signing Events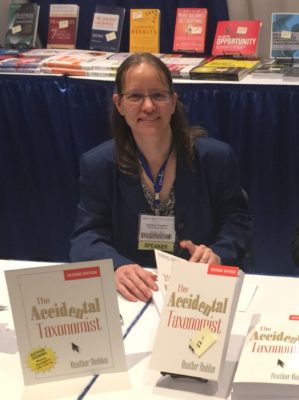 Heather Hedden signs copies of The Accidental Taxonomist, offered for sale at a conference discount at many of the conferences at which she speaks. Book discounts are also sometimes offered for online orders associated with virtual or hybrid conferences.
If the third edition gets printed in time, the next expected book-signing will be at KM World conference, November 8-10, Washington, DC.