Upcoming Events 2023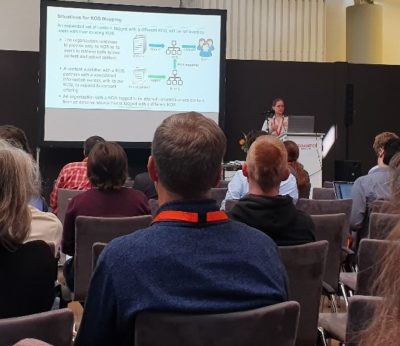 The Accidental Taxonomist Book Club series
Description: During each one-hour session, topics the author will present topics from two chapters of the book for approximately half an hour, and open Q&A and discussion will take up the second half hour.
Dates: Tuesdays, 11:30 am ET, from February 14 to March 28 (skipping March 7 due to PoolParty Summit)
Format: Live virtual (Zoom)
Organizer: KGC (The Knowledge Graph Conference)
Registration: $60 for the 6-week series. Registration is open. Register here.
Discount book order with code KGCTAT3 when ordering from the publisher by February 1.
"Taxonomy Creation Workshop"
Description: Taxonomies help connect users to content, and they improve findability over keyword search alone. As such, taxonomies should be created so that they are customized to the content and to the users. How to go about this will be addressed in this interactive workshop. Content analysis and term extraction are methods to make a taxonomy match its content, and user interviews and brainstorming sessions are methods to make a taxonomy suit its users. Following an explanation of different taxonomy types and features, exercises will include analyzing a document for candidate concepts, looking at the results of a term extraction tool and of a search log report. Small breakout groups will then brainstorm a taxonomy structure and top terms to serve the identified users.
Date: Saturday, March 4, 1:30 – 2:30 pm
Format: In-person
Organizer: World Information Architecture Day
Location: Southern New Hampshire University, Manchester, NH
Registration: Free. Registration is open now. Register here.
"Taxonomy Linking"
Description: Managing multiple taxonomies within an organization can be a challenge, but linking them together is a solution offering various benefits over separate taxonomies or a single taxonomy. This session begins with an introduction to the principles and methods of taxonomy linking, including the SKOS standard, and includes a demo of taxonomy project linking feature in PoolParty. The session then goes on to describe a specific use case of this strategy at Harvard Business School.
Dates: Wednesday March 8, 10:30 – 11:15 am EST.
Format: Live online on the Accelevents virtual conference platform
Organizer: PoolParty Summit
Registration: Free for two-day online conference. Registration is open now. Register here.
"An Introduction to Knowledge Graphs"
Description: There is a growing interest in knowledge graphs to organize information and make it findable in organizations with large amounts of data and content. Unlike other data technologies, a knowledge graph has a structure that is typically based on a taxonomy and ontology, and thus should involve information architects. Knowledge graphs also have more benefits than information findability, including discovery, analysis, and recommendation. Knowledge graphs bring together content and data.  This session explains what a knowledge graph is and how it is built, with a focus on ontologies. It also presents examples and standards.
Date: Thursday, March 30, 11:00 – 11:45 am CDT
Organizer: Information Architecture Conference
Location: InterContintental Hotel New Orleans, New Orleans, LA
Registration: Early bird conference registration ends February 2. Register here.
"Taxonomy For Delivering Targeted Technical Content"
Description: There are multiple ways that a taxonomy, as the intermediary between users and content, can deliver technical content in a more targeted or even personalized way. These include having distinct taxonomies for different audiences, segmenting a taxonomy, using alternative labels, providing varied taxonomy displays and interactions, implementing UI customization features, and semantically enriching a taxonomy to enable recommendation. This session will also answer questions about the book The Accidental Taxonomist, 3rd edition.
Date: Wednesday, April 12, 1:00 – 2:00 pm EDT
Format: Live online, and recording will be available afterwards
Organizer: The Content Wrangler and hosted by BrightTALK
Registration: Free. Registration is open now.
"Knowledge Hub Creation Challenges and Solutions"
Description: An enterprise knowledge hub brings together content from multiple repositories, applications, or silos with a single search and retrieval application. Challenges include defining the scope of content, purpose, users, and the taxonomy to tag the content and serving different uses. A case study presents tips and issues in setting up a knowledge hub that is combined with external user documentation.
Date: Tuesday, April 18, 1:00 – 2:00 pm EDT
Format: In-person
Organizer: ConVEx Conference, organized by CIDM "an immersive experience for Content Developers"
Location: Kimpton Monaco Baltimore Hotel, Baltimore, MD
Registration: Conference registration is open. Register here.
"Taxonomy Basics"
Description:
Part 1: What are taxonomies and why are they useful?
– A brief history of taxonomies including standards
– Why are taxonomies needed?
– Helpful definitions
– The benefits to organizations
– Different kinds of applications (for example, Digital Asset Management, content management systems, tagging, websites, search, data management, machine learning)
Part 2: Taxonomy project basics
– How to initiate a project
– Basics of taxonomy construction
– User testing and validation
– Facilitating business adoption
– Governance and maintenance – high level principles, best practices, importance
Part 3: 'Ask us Anything' Taxonomy Question Time jointly with Helen Lippell.
Date: Wednesday, April 26, 14.00 – 16.30 BST / 9:00 – 11:30 EDT
Format: Live virtual (Zoom)
Organizer: Taxonomy Boot Camp London
Registration: Opens February 6.
SLA/MLA (Special Libraries Association / Medical Libraries Association) joint conference
Virtual presentations
May, 2023
Details TBA
---
Book Sale and Signing Events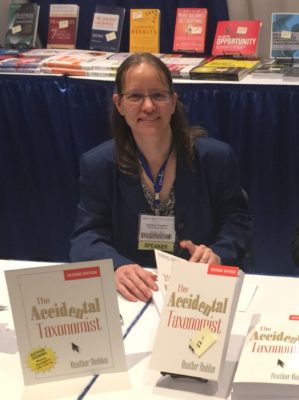 Heather Hedden signs copies of The Accidental Taxonomist, offered for sale at a conference discount at many of the conferences at which she speaks. Book discounts are also sometimes offered for online orders associated with virtual or hybrid conferences.
The next conference at which books will be available for sale (at a 15% discount) and will be signed are:
Data Day Texas, 5:10 – 6:00 pm, January 28, AT&T Convention Center, Salon AB, Austin, TX
World Information Architecture Day, March 4, 2023, Manchester, NH