Upcoming Presentations and Workshops
"Taxonomies and User Experience"
Organized by: World IA Day
Location: Boston, Massachusetts
Date: February 22, 2020
"Taxonomy Design & Creation" pre-conference workshop
Organized by: IntraTeam
Location:  Copenhagen, Denmark
Date: March 2, 2020
"Designing & Maintaining Practical Taxonomies" pre-conference workshop
Organized by: Computers in Libraries
Location: Arlington, Virginia
Date: March 30, 2020
"Taxonomy and Ontology Design Best Practices"
Organized by: SEMANTiCS
Location: Austin, Texas
Date: April 21-23, 2020 (exact day TBD)
"Challenges in Taxonomy Building for Scholarly Research: Case Studies"
Organized by: SLA (Special Libraries Association)
Location: Charlotte, North Carolina
Date: June 6-9, 2020 (exact day TBD)
---
Book Sale and Signing Events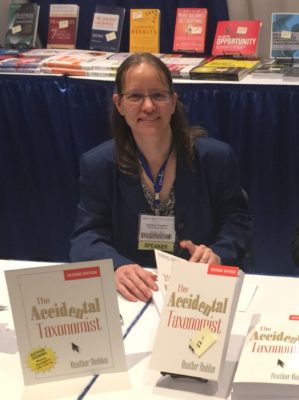 Heather Hedden signs copies of The Accidental Taxonomist, 2nd edition, offered for sale at many of the conferences at which she speaks.
The next conferences with a book sale and signing will be:
– Computers in Libraries conference, during the Exhibit Grand Opening Reception, March 31, 2020 Arlington, VA.
– SLA annual conference, June 7-9, 2020, Charlotte, NC.
Details will be posted later.