Upcoming Presentations and Workshops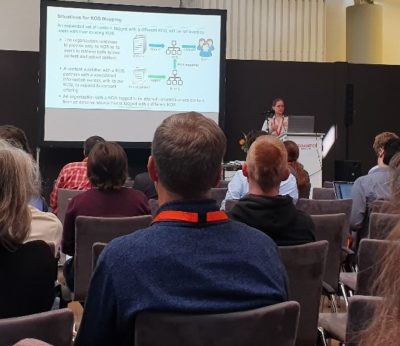 "Ontology Design by Enriching Taxonomies" working session
Data-Centric Architecture Forum
Date: Wednesday, February 3, 2021, 2:15 – 3:45 pm EST; 12:15 – 1:45 pm MST (virtual/online)
Description: Data and the subsequent knowledge derived from information are valuable assets of an organization. What makes it especially valuable is if the data can be classified and linked in a knowledge graph to achieve better decisions, customer satisfaction, and knowledge discovery, by solving such problems as localized meaning, data silos, heterogeneous data sources, and divergent kinds of structured and unstructured data. Ontologies model and semantically link different kinds of data forming the basic structure of a knowledge graph.
There are different approaches to designing and creating ontologies, however, and the choice of which may depend on what taxonomies and other knowledge organization systems already exist in an organization, whether the focus is on only data or also other content, and what tools are available. This workshop addresses the approach of building an ontology as a semantic layer on top of existing taxonomies or other controlled vocabularies, thus semantically enriching and linking them, and then the ontology itself does not need to be large and complex. Practical issues or decision points in creating ontologies will also be covered, and there will be some participatory activities.
Registration link  The entire 3-day conference is only $100
"Building, Enhancing, and Integrating Taxonomies"
The EuropeaN Data conference On Reference data and SEmantics (ENDORSE)
Publications Office of the European Union
Date: March 16-19, 2021 (virtual/online)(exact date and time TBD)
Knowledge organization systems (taxonomies, thesauri, term lists, ontologies) play a key role in making content and data easier to find, whether within an organization or published externally. They are utilized in many ways in information management and retrieval: browsing, searching, filtering, sorting, alerts, content workflows, recommendations, etc. Many organizations already have various controlled vocabularies designed for different purposes but lack an enterprise-wide taxonomy, have taxonomies that are out of date, or have taxonomies that are under-utilized. This workshop focuses on some basic methods to get started in either building a new taxonomy or in combining and enhancing existing knowledge organization systems.
Because knowledge organization systems connect users to content, they need to be designed to take into consideration the users' needs and inputs and take into consideration the specific corpus of content. This workshop will address different methods of obtaining user input with a closer look and interactive and collaborative activity involving card sorting. Different methods of deriving concepts from the content will also be addressed, including a content analysis activity and a closer look into the method of document corpus analysis. This workshop also teaches participants to recognize which kinds of knowledge organization systems are suitable for different purposes and know when and how different knowledge organization systems may be used in combination, combined, or linked.
Registration link. Free.
"Taxo Update: Latest in Designing & Maintaining Taxonomies" workshop
Computers in Libraries
Date: Monday, March 22, 2021, afternoon Eastern Time (virtual/online)
Half-day afternoon workshop
Description: Librarians are increasingly finding reasons to create taxono­mies or related knowledge organization systems. They may need to classify a special collection or local archives, develop a thesaurus to index a local or institutional periodical, create a controlled vocabulary for tagging pages or posts in a web content management system, or merely categorize a large collection of resource links. This workshop shares best practices tips on designing and maintaining taxonomies for practical use as well as the latest thinking and tools in the industry. Design considerations include whether to create a taxonomy or thesaurus; whether a taxonomy should be primarily hierarchical or faceted; how large it should be; whether synonyms/variants are needed and if so, how many; what the sources are for the terms; and what the guidelines are for properly creating hierarchical relationships. Topics include: choosing the right type of taxonomy or controlled vocabulary, taxonomy standards, sources for additional concepts to enhance a taxonomy, best practices for concept labels and relationships, designing hierarchies and facets, maintenance and governance, linking taxonomies, and taxonomy management software, as well as recent trends in taxonomies.
Registration opens soon.
"Taxonomy and Metadata Design" workshop
Technology Transfer – Advanced IT training
Date: 8-hour workshop over two days: Monday-Tuesday, March 29-30, 2021, 14:00 – 18:00 CET; 10:00am – 2:00pm EDT each day (virtual/online)
Description: A core part of a knowledge management or content management plan is an integrated taxonomy and metadata strategy. Content that is tagged with metadata, supported by a taxonomy, becomes more manageable, findable, discoverable, and sharable. Metadata is broader than a taxonomy, but a taxonomy is deeper than metadata alone. Taxonomies and descriptive metadata should be designed in combination. Taxonomies and metadata also need to be designed to best represent the unique content set and its particular users. A licensed taxonomy from an external source is rarely appropriate. This one-day seminar provides the basics in best practices for designing and building a taxonomy and a broader descriptive metadata schema that supports findability and discoverability.
Registration link €600
"Connecting Users to Content: An Introduction to Taxonomy Design & Creation" workshop
IAC (Information Architecture Conference)
Date: 6-hours over three days: Wednesday-Friday, April 21-23, 2021, 2:00-4:00 pm ET each day (virtual/online)
Description: Taxonomies have evolved from classification systems to adaptable interactive tools to link users to desired content on websites, intranets, and web applications. Taxonomies are not the same as a website's navigation and can do a lot more. Taxonomies can provide guiding categories of topics, suggested search terms, aspects for faceted search, or topics for sorting and filtering results. To be truly helpful, however, taxonomies need to be well designed to suit the users and use cases, be customized to the content, and conform to taxonomy best practices and standards so that they are easy and intuitive to use.
This workshop teaches taxonomy creation principles and addresses the issues of designing a taxonomy to serve users. It presents best practices in designing taxonomies, including the principles of wording of terms, incorporating synonyms, creating relationships between terms, and designing hierarchies and facets. Other topics include taxonomy project planning, sources for terms, and taxonomy testing. The workshop will also include practical exercises and access to taxonomy management software.
Registration link. Multi-day workshop price $200 ($75 for students)
---
Book Sale and Signing Events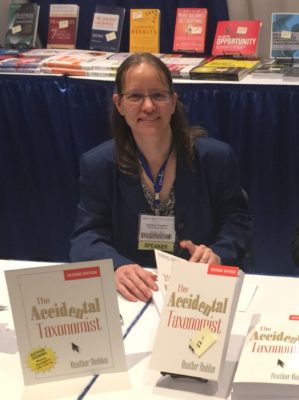 Heather Hedden signs copies of The Accidental Taxonomist, 2nd edition, offered for sale at a conference discount at many of the conferences at which she speaks. Book discounts are also sometimes offered for online orders associated with virtual conferences.
Check back in fall 2021 for information on future live conference appearances.