Upcoming Events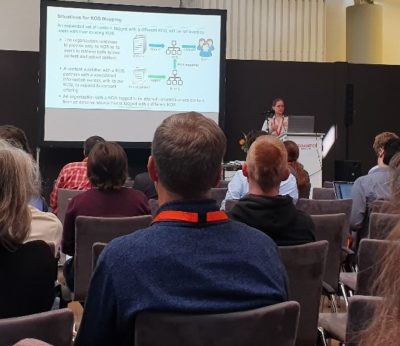 "Foundation for a Knowledge Graph: Taxonomy Design Best Practices" masterclass
Organizer: Connected Data World
Format: Online
Date:  Thursday, December 2, 8:00 – 10:00 EST part 1; 10:15 – 12:15 EST part 2
Description: Ontologies form the semantic framework for knowledge graphs, but to serve the purpose of linking data, ontologies need to be based on taxonomies or other controlled vocabularies, whose concepts are linked to data and tagged to content. There has also been a trend of greater integration of taxonomies and ontologies. While taxonomies are easier to design and create than ontologies, too often they are created without any skill or training, and poorly designed taxonomies yield poor results. This tutorial will cover the basics and best practices in taxonomy design, including: types of controlled vocabularies, standards, sources for topical concepts, wording of labels, alternative labels, hierarchical and associative relationships, and governance. This tutorial also explains the approach of semantically enriching an existing taxonomy to become an ontology by adding a semantic layer of an ontology or custom scheme.
Outline and details (attend either or both masterclass parts)
Conference registration

KGC Book Club Series: The Knowledge Graph Cookbook
Organizer: The Knowledge Graph Conference (KGC)
Format: Interactive Zoom
Series Dates: Mondays 11:00 – 12:00 EST, December 6 and 13
Description: Featured presenter/discussant for
December 6: Workshop on using PoolParty (with live demo)
December 13: Office hours for PoolParty (with Q&A and demos)
Prior sessions feature Andreas Blumauer and Helmut Nagy talking about how to build knowledge graphs, as described in their book, The Knowledge Graph Cookbook.
Meet the Author: Meet and Greet with Heather Hedden
Organizer: Data Day Texas
Date: Friday, January 21, 2022, 5:30 PM – 7:30 PM CST
Location: Downtown Austin, TX 78701 (to be announced)
Free registration

"Introduction to Taxonomies for Data Scientists" tutorial (2+ hours)
Description: This tutorial/workshop teaches the fundamentals and best practices for creating quality taxonomies, whether for the enterprise or for specific knowledge bases in any industry. Emphasis is on serving users rather than on theory. Topics to be covered include: the appropriateness of different kinds of knowledge organization systems (taxonomies, thesauri, ontologies, etc.), standards, taxonomy concept creation and labeling, taxonomy relationship creation. The connection of taxonomies to ontologies and knowledge graphs will also be briefly discussed. There will be some interactive activities and hands-on exercises. Outline and details
"The Future of Taxonomies – Linking Data to Knowledge" presentation
Description: Taxonomies are no longer just for navigation or tagging documents. AI technologies, such as machine learning and NLP are now being used more in combination with taxonomies rather than merely in place of taxonomies. The results include applications of semantic search, personalization, recommendation, question-answering. Combining taxonomies with ontologies and linked instance data, supporting more powerful search and analytics across all kinds of data, structured and unstructured, and not just documents.
Organizer: Data Day Texas conference
Format: In-person
Location: AT&T Conference Center and Hotel, Austin, TX
Date: Saturday, January 22, 2022
Conference registration (Register early for reduced rate)
---
Book Sale and Signing Events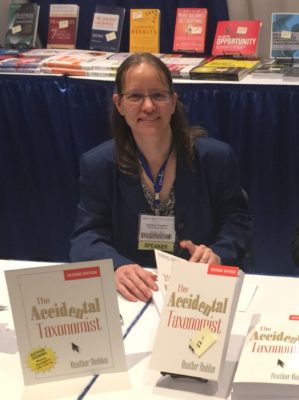 Heather Hedden signs copies of The Accidental Taxonomist, 2nd edition, offered for sale at a conference discount at many of the conferences at which she speaks. Book discounts are also sometimes offered for online orders associated with virtual conferences.
Check back later, for 2022 events.