Upcoming Presentations and Workshops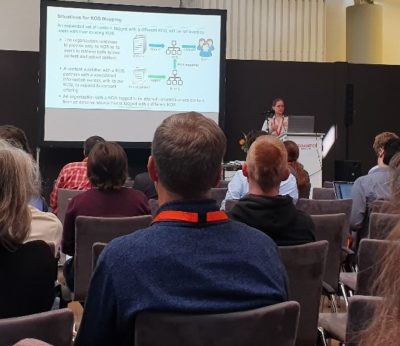 "Building Ontologies for Knowledge Discovery"
Free webinar
Organized by: Smartlogic
Date: Thursday, August 13, 11:00 – 12:00 EDT
Description: Effective information management is a key business requirement and an essential part of a well-implemented data strategy. Organizations leverage ontologies to help them manage information more effectively, maximize findability and discoverability, and organize, categorize, and increase the reuse of hidden and undiscovered information. Yet ontologies can seem overly complex, requiring special skills to create and manage. And the key question remains—how do I put them to work to solve my information and data challenges?
Learn about:
– Ontologies, what they are and how to build them
– Where to find authoritative and Open Linked Data Sources for ontologies
– How to put ontologies to work in the enterprise
"Connecting Users to Content: An Introduction to Taxonomy Design & Creation"
Virtual conference workshop
Organized by: EuroIA (the Information Architecture conference of Europe)
Date: Wednesday, September 23, 16:00 – 19:30 CET; 10:00 am – 1:30 pm EDT.
Description: To be truly helpful, taxonomies need to be well designed to suit the users and use cases, be customized to the content, and conform to taxonomy best practices and standards so that they are easy and intuitive to use. This workshop teaches taxonomy creation principles and addresses the issues of designing a taxonomy to serve users. It presents best practices in designing taxonomies, including the principles of wording of terms, incorporating synonyms, creating relationships between terms, and designing hierarchies and facets. Other topics include taxonomy project planning, support for tagging, and considerations for taxonomy governance and maintenance. The workshop will also include practical exercises and demo the use of taxonomy management software.
This half-day workshop is included in the full virtual conference price of only €149.
---
Book Sale and Signing Events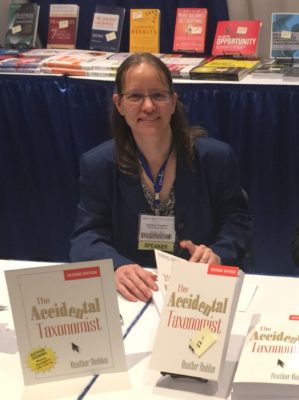 Heather Hedden signs copies of The Accidental Taxonomist, 2nd edition, offered for sale at a conference discount at many of the conferences at which she speaks.
Check back in 2021 for information on future live conference appearances.