Upcoming Presentations and Workshops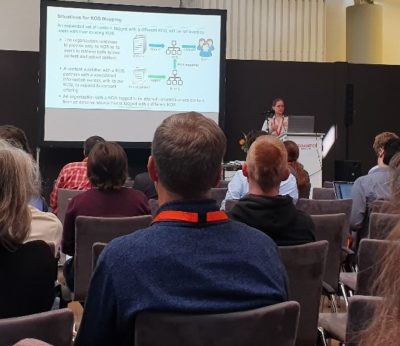 "Taxonomy Management 101"
Organizer: Semantic Web Company
Format: Webinar
Date: Wednesday, August 4, 2021, 12:00 – 1:00 pm EDT
Description: The uses and benefits of taxonomies are almost endless: search or browse on website, intranets, and in enterprise content management systems, sorting or filtering results, discovery of related information, content workflow management, visualization of topics, curated content in feeds or info boxes, recommendation systems, and question answering systems. As taxonomies become more common for information management and retrieval in all kinds of organizations and in various applications, the task of creating new taxonomies from scratch is less needed than the task of managing existing taxonomies. This webinar covers various aspects of taxonomy management, including maintenance, governance, management of taxonomy tagging, taxonomy integration with end-user applications, periodic taxonomy review and revision, and methods of extending a taxonomy.
Free registration

"Using Semantic Resources to Enrich Content Services"
Organizer: SLA (Special Libraries Association)
Format: On-demand recording for registered conference attendees
Dates available: August 3 -31, 2021.
Description: Without structure, content management systems and other repositories can quickly go from sharing content to burying content. How do you tackle this challenge and capitalize on the opportunity it represents without feeling like you are trying to boil the ocean? By using semantic resources like taxonomies and ontologies! This session will present lessons learned from experience and give you actual steps for increasing the use of semantic resources in your content platforms.
Online conference registration
"Convergence & Realignment" panel with brief presentation on semantic and graph technologies
In the virtual conference Migrating Media & Entertainment into the Cloud: A Real-World Perspective
Organized by: SMPTE
Format: Virtual conference
Date: Tuesday, August 31, 2021, 11:15 AM – 12:15 PM EDT
Description: Media & Entertainment's linear value chain has become more iterative. Business verticals are merging. Data, digital, and broadcast groups are less separated. This session is intended to summarize where the cloud migration stands, what are the advantages, what new tools and technologies are involved, and what challenges will face? Live QA to follow.
"Knowledge Engineering of Taxonomies, Thesauri, and Ontologies"
Half-day conference workshop
Organizer: SEMANTiCS conference
Location: Meervaart conference center, Amsterdam, Netherlands
Format: In-person and remote online options
Date: Monday, September 6, 2021, 9:00 am – 12:30 pm CEST
Full description, outline, and registration
"Taxonomy and Metadata Design"
Two-day series (4 hours/day) interactive online/virtual workshop
Organizer: Technology Transfer
Format: Online (Zoom) with interaction
Dates: Monday – Tuesday, October 11 – 12, 2021, 8:00 am – 12:00 pm EDT (14:00 – 18:00 CEST) each day (with breaks)
Full description, outline, and registration
"Turning a Taxonomy into an Ontology" presentation
Organizer: Taxonomy Boot Camp conference
Location: JW Marriott, Washington, DC
Date: Monday, November 15, 2021, 4:15 – 5:00 pm EST
Description: Taxonomies and ontologies used to be quite distinct, but now taxonomies, thesauri, and ontologies can be considered to be on a continuum of various kinds of knowledge organization systems. It's not necessary to create a complete ontology from scratch, if you already have taxonomies or other controlled vocabularies. These vocabularies can be enriched with the features of an ontology (semantic relationships, custom attributes, and classes) by taking the ontology-design approach of building an ontology as a semantic layer on top of existing vocabularies. Hedden provides an introduction to ontologies and their components and walks through the steps extending a taxonomy by designing and adding an ontology semantic layer.
"Taxonomies and Text Analytics for Recommendation Systems" presentation
Organizer: Text Analytics Forum conference
Location: JW Marriott, Washington, DC
Date: Thursday, November 18, 2021, 2:00 – 2:45 pm EST
Description: Recommendation systems goes beyond the limitations for search to get the right information to the right people by providing suggestions, such as for content, products, opportunities, connections, etc. A knowledge-based recommendation system, making use of a knowledge graph and text analytics, has advantages over other recommender technologies. This session presents a prototype recommendation system, an "HR Recommender" (for jobs, projects, and people to connect to) and explains how it is built. It is based on a semantic model of taxonomies and an ontology, content that is text-mined, algorithms for calculating similarities, a search index, and a front-end user interface. A demo of the recommender application and a demo of a tool for text mining and taxonomy/ontology modeling behind it will be presented.
Conference registration
"Psst … What's an Ontology?"
Organizer: SLA (Special Libraries Association)
Format: Online (Zoom) with interaction, 1 hour 45 minutes long
Date: Fall 2021 (exact day to be determined)
Description: This continuing education session will provide an introduction to ontologies, their design, and uses.
---
Book Sale and Signing Events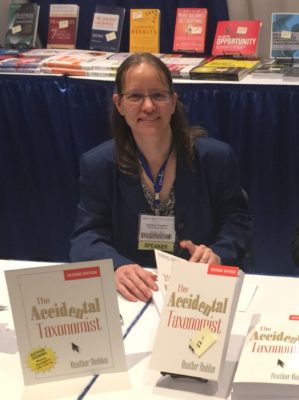 Heather Hedden signs copies of The Accidental Taxonomist, 2nd edition, offered for sale at a conference discount at many of the conferences at which she speaks. Book discounts are also sometimes offered for online orders associated with virtual conferences.
Upcoming conference with a booksigning:
KMWorld Conference – Enterprise Solutions Showcase
November 16-18, 2021