Upcoming Presentations and Workshops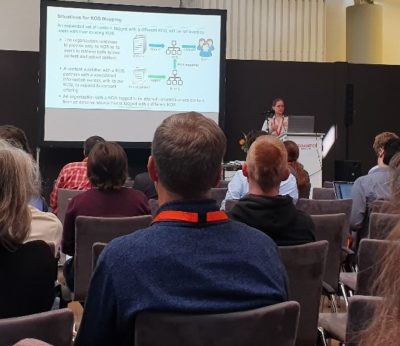 "Connecting Users to Content: An Introduction to Taxonomy Design & Creation"
Virtual conference workshop
Organized by: EuroIA (the Information Architecture conference of Europe)
Date: Wednesday, September 23, 16:00 – 19:30 CET; 10:00 am – 1:30 pm EDT.
Description: To be truly helpful, taxonomies need to be well designed to suit the users and use cases, be customized to the content, and conform to taxonomy best practices and standards so that they are easy and intuitive to use. This workshop teaches taxonomy creation principles and addresses the issues of designing a taxonomy to serve users. It presents best practices in designing taxonomies, including the principles of wording of terms, incorporating synonyms, creating relationships between terms, and designing hierarchies and facets. Other topics include taxonomy project planning, support for tagging, and considerations for taxonomy governance and maintenance. The workshop will also include practical exercises and demo the use of taxonomy management software.
Registration: This half-day workshop is included in the full virtual conference price of only €249, or €109 for students. Use the code "speaker50" to get €50 off. Email for one of a limited number of codes for €100 off.
"Berklee Music and Health Taxonomy" in the session "Challenges in Building Healthcare and Medical Taxonomies: Case Studies"
Organized by: SLA (Special Libraries Association) 2020 Annual Conference
Dates: Available to attendees on-demand October 5 – November 13, 2020
Description: For the new Music and Health Collection and new taxonomy was needed that bridges two different disciplinary areas. Challenges in building this taxonomy included accommodating diverse users, platform user interface limitations, and integration with existing index terms.
Conference registration
---
Book Sale and Signing Events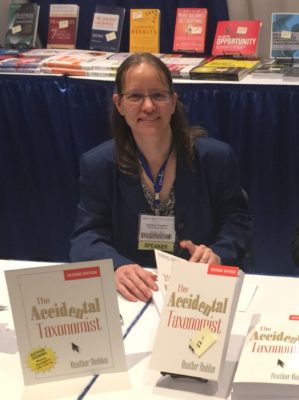 Heather Hedden signs copies of The Accidental Taxonomist, 2nd edition, offered for sale at a conference discount at many of the conferences at which she speaks.
Check back in 2021 for information on future live conference appearances.