Upcoming Presentations and Workshops
"Data, Data Everywhere and the Information Professionals Categorizing and Systemizing it for their Organizations" panel
Organized by: SLA New England
Location: Simmons University, Boston, Massachusetts
Date: Wednesday, February 12, 2020, 6:00 – 8:00pm
Description: The talk within this panel session will focus on a case study of developing a taxonomy for tagging internal business content for an organization that is migrating its intranet to SharePoint.
"Taxonomies and User Experience"
Organized by: World IA Day
Location: Washburn Commons, 16 Phillips Place, Lesley University, Cambridge, Massachusetts
Date: Saturday, February 22, 2020
"Taxonomy Design & Creation" pre-conference workshop
Organized by: IntraTeam: European DEX Conference
Location:  Radisson BLU Scandinavia, Copenhagen, Denmark
Date: Monday, March 2, 2020, 1:00 – 4:00 pm (13:00 – 16:00)
Description: Taxonomies are key to providing information findability in an intranet, whether through search, browse, or as filters. To be truly helpful, however, taxonomies need to be well designed to suit the users and use cases and by conforming to taxonomy best practices and standards. This workshop will present best practices principles in designing taxonomies, including the basics of terms and relationships along with structural design issues, independent of any software or platform. The workshop will also include practical exercises and demo the use of dedicated taxonomy management software.
Workshop description, outline, and registration link
"Taxonomy Design & Creation" short session
Organized by: IntraTeam: European DEX Conference
Location:  Radisson BLU Scandinavia, Copenhagen, Denmark
Date: Wednesday, March 4, 2020, 11:35 – 12:00
Description: A CMS or SharePoint gives many options for implementing taxonomies or metadata, so many options that it can be confusing to know what to use: search terms, navigation labels, column sorting, filters, facets, categories, content types, tags, or other metadata. This session looks at different types of taxonomies or metadata that may be available in a CMS, how they are displayed to users, both end-users and those doing the tagging, and advises what to consider. Particular emphasis will be given on how to support manual tagging so that it is easier and more consistent.
"Designing & Maintaining Practical Taxonomies" pre-conference workshop
Organized by: Computers in Libraries
Location: Hyatt Regency Crystal City, Arlington, Virginia
Date: Monday, March 30, 2020, 1:00 – 4:00 pm
Description: Information professionals are increasingly finding reasons to create taxonomies or related knowledge organization systems. They may need to classify a special collection or local archives, develop a thesaurus to index a local or institutional periodical, create a controlled vocabulary for tagging pages or posts in a web content management system, or merely categorize a large collection of resource links. This workshop provides instruction and best practices tips on designing and maintaining taxonomies for practical use. Design considerations include whether to create a taxonomy or thesaurus; whether a taxonomy should be primarily hierarchical or faceted; how large it should be; whether synonyms/variants are needed and if so, how many; what the sources are for the terms; and what the guidelines are for properly creating hierarchical relationships.
Workshop description, outline, and registration link
"Taxonomy and Ontology Design Best Practices"
Organized by: SEMANTiCS
Location: Austin, Texas
Date: April 21 or 22, 2020 (exact day TBD)
Ontologies form the basis of knowledge graphs, and taxonomies are often the basis of ontologies. Thus, a good understanding of taxonomy and ontology design best practices can go a long way. Following a brief introduction of definitions and examples, this session reviews standards and then goes beyond the standards to discuss practical considerations. Standards for ontologies are purely technical and don't explain how to make a good ontology. Standards for "taxonomies" do not exist, but standards for thesauri are applicable to taxonomies and explain how to design them well. Best practices include basing the taxonomy and ontology on the content set to be retrieved and on use cases of search and retrieval of the intended users. Other topics discussed include the size, hierarchical depth and specificity of the taxonomy terms, the number of classes and specificity of relationships in an ontology, and the names of labels.

"Challenges in Taxonomy Building for Scholarly Research: Case Studies"
Organized by: SLA (Special Libraries Association)
Location: Charlotte, North Carolina
Date: June 7-9, 2020 (exact day TBD)
Description: This Case Study session includes the following stars: AstroThesaurus, JSTOR, and the Berklee Music & Health Institute taxonomy, the latter a project of Hedden Information Management. Attendees will learn about how these resources started (with ideas and advice on how to start something similar). They will also learn from the shared challenges which include, but certainly are not limited to, cross-disciplinary considerations, different audiences for the same resource, blockers in gathering sufficient user input, system limitations, and design issues that need to be considered for both internal and external users. Come prepared to learn about the stars (of thesauri)!
---
Book Sale and Signing Events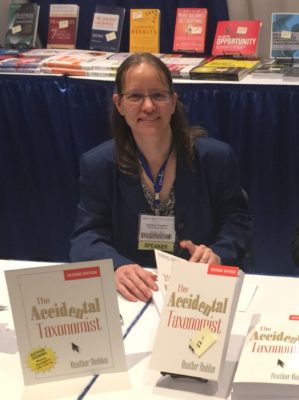 Heather Hedden signs copies of The Accidental Taxonomist, 2nd edition, offered for sale at a conference discount at many of the conferences at which she speaks.
The next conferences with a book sale and signing will be:
– Computers in Libraries conference, during the Exhibit Grand Opening Reception 4:00 – 6:00 pm, March 31, 2020, Arlington, VA.
– SLA annual conference, June 7-9, 2020, Charlotte, NC.
Details will be posted later.
At other events at which Heather speaks without book-signing events, discount book order forms will be available.