Upcoming Events 2023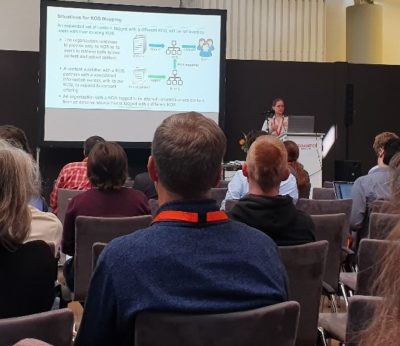 "Knowledge Engineering of Taxonomies and Ontologies" 3-hour tutorial
Description: This tutorial teaches the fundamentals and best practices for creating quality
taxonomies and simple domain ontologies, based on Semantic Web standards, whether for
the enterprise or for specific knowledge bases in any industry. Emphasis will be on serving
users and use cases, rather than on theory. Topics to be covered include: different kinds of
knowledge organization systems (taxonomies, thesauri, ontologies, etc.) their differences and
their benefits and suitability for different purposes, Semantic Web standards and other
standards, taxonomy/thesaurus concept creation, taxonomy/thesaurus relationship creation,
ontology modeling basics for classes, relations and attributes, linking knowledge organization
systems, and enriching a taxonomy or thesaurus to become an ontology and a knowledge
graph.
Date: Wednesday, September 20, 10:30 am – 2:30 pm CEST (with a one-hour lunch break)
and
"The Key to Sustainable Enterprises: ESG, Knowledge Graphs, and Digitalization" 3-hour tutorial
Environmental – Social – Corporate Governance (ESG) is a framework that helps corporations measure their behavior in relation to global sustainability issues. This workshop will explain why Semantic AI and knowledge graphs should have a fundamental role in ESG strategies and will introduce ESG and cover the challenges associated with it, survey a collection of practical use cases, preview a core ESG knowledge model, and explain how the knowledge model can be extended into a knowledge hub, among other solutions.
Co-presented with Andreas Blumauer and Lutz Kruger
Date: Wednesday, September 20, 3:00 – 6:15 pm CEST (with a 15-minute break)
Format: Both workshops are in-person with live streaming virtual access
Organizer: SEMANTiCS Conference
Location: HYPERION Hotel, Leipzig, Germany
Registration: Three-day, single-day, in-person, and online options
Will also be at the PoolParty exhibit booth.
"Taxonomy Enhancements for SharePoint"
Description: SharePoint is a widely-used tool for storing and managing enterprise documents and information; and it has some features for supporting tagging and taxonomies. Heather's session is an introduction (or refresher) for anyone who wants to improve the usefulness of their organization's SharePoint implementation. The presentation covers the Term Store and strategies for taxonomy management and tagging.
Date: Wednesday, October 11, 9:00 – 9:45 am EDT(14:00 – 14:45 BST)
Format: Live virtual (Zoom)
Organizer: Taxonomy Boot Camp London
Registration: Open. £89.00 for the half-day of three presentations.
"Leveraging Semantics to Provide Targeted Training Content: A Case Study"
Description: Employee training content (whether self-paced slide decks, interactive learning, or instructor-led sessions) is not just for employee onboarding, but is also important for existing employees to gain new skills, refreshers in past skills, and learn new technologies or procedures. It can be confusing to employees to know what training is appropriate. Tagging training courses for their topics is a good start, but that supports searching for something specific. If employees need to discover relevant training content that they don't know about, courses should also be retrieved or recommended based on other criteria, such as the employee's job role, level, and organizational unit. A case study is described, whereby these methods and the PoolParty platform were used in a proof-of-concept project for Google gTech which successfully demonstrated how search and discovery of training content could be improved.
Date: Monday, October 16, 1:30 – 3:00 pm PDT
Format: In-person and hybrid recorded
Organizer: LavaCon Conference
Location: Manchester Grand Hyatt, San Diego, CA
Registration: Save $200 off with discount code PoolParty23
"Taxonomy 101 Workshop"
Description: This introductory taxonomy tutorial covers key concepts to get you up-to-speed for the rest of the conference or helps prepare you to take on a role in a taxonomy project. Topics include the various uses and benefits of taxonomies, comparisons, and suitable applications of different types of taxonomies/controlled vocabularies (hierarchical, faceted, thesauri, and ontologies); taxonomy standards; the relationship of taxonomies to metadata; sources for taxonomy concepts; best practices for developing terms and their relationships; and tools for creating and managing taxonomies.
Date: Monday, November 6, 10:15 am – 12:00 noon
and
"Challenges in Creating Taxonomies for Learning & Development"
Co-presented with Amber Simpson
Description: There is a growing need within skills-based organizations to align employee training with skills and roles. Taxonomies can help provide a foundation to align skills to learning content. Simpson discusses Walmart's current effort to push learning content to associates by providing them skills for their current and next role and recommend learning paths. Hedden looks at issues involved in coming up with taxonomy of skills, the importance of considering the different users of a skills taxonomy, how skills can be linked to roles in a simple ontology, and the challenges in application front-end design.
Date: Monday, November 6, 2:00 – 2:30 pm
Format: In-person
Organizer: Taxonomy Boot Camp
Location: JW Marriott, Washington, DC
Registration: Use discount code VIPPOOL for 30% off. Taxonomy Boot Camp only or full 4-day KMWorld conference options.
Will also be at the PoolParty exhibit booth in the KMWorld Showcase
"Communities of Practice for Knowledge Sharing" panel
Description: Communities of Practice (CoPs) can be invaluable for connecting people with common goals and interests and facilitating the sharing of knowledge, resources, and more. This session explains what a community of practice is, considerations for designing and growing your CoP, and strategies for success in maintaining a CoP. Speakers discuss the use of CoPs in internal organizations; the most recent research about how CoPs can be used to support KM project successes; external communities of practice, including examples of a software product user community; and the Taxonomy Talk community hosted on Discord.
Date: Wednesday, November 8, 10:45 – 11:30 am
Format: In-person
Organizer: KMWorld
Location: JW Marriott, Washington, DC
Registration: Use discount code VIPPOOL for 30% off.
Will also be at the PoolParty exhibit booth in the KMWorld Showcase
"Generative AI, Context, & Knowledge Models"
Description: When search technologies moved from the web to the enterprise, the incorporation of knowledge models (taxonomies and ontologies) provided more accurate and complete search results. Now that we are looking to bring LLMs (large language models such as ChatGPT) and generative AI from the public web to inside the enterprise, there is again a role for knowledge models to provide better results. The subject domain and context can also make a difference. The advantages of combining a taxonomy/ontology with generative AI and limiting it to a subject domain is explained and demonstrated using real-world applications.
Date: Wednesday, November 8, 2:30 – 3:15 pm
Format: In-person
Organizer: Enterprise AI World
Location: JW Marriott, Washington, DC
Registration: Use discount code VIPPOOL for 30% off.
"Taxonomy and Metadata Design" workshop series
Description: on Interactive Virtual Taxonomy Workshops page
Dates: Monday – Tuesday, December 11 – 12, 8:00 am -12:00 noon EDT (14:00 – 18:00 CET) each day
Format: Web conference (Zoom), live with exercises and Q&A
Organizer: Technology Transfer S.r.l.
Registration: Open. 5% discount by November 10.
---
Book Sale and Signing Events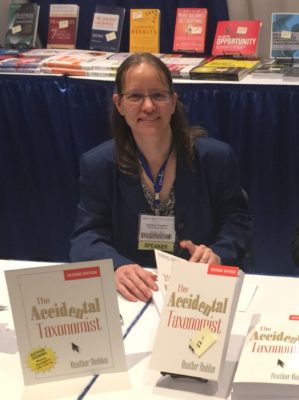 Heather Hedden signs copies of The Accidental Taxonomist, offered for sale at a conference discount at many of the conferences at which she speaks. Book discounts are also sometimes offered for online orders associated with virtual or hybrid conferences.
The next conference at which books will be available for sale (at a discount) and will be signed is:
KMWorld, November 6 – 8, JW Marriott, 1331 Pennsylvania Avenue NW, Washington, DC 20004. Entrance to the showcase-only is free for qualified industry professionals registering by October 6.
A limited number of copies will also be available at the PoolParty both at LavaCon in San Diego, October 15-16.