Upcoming Events 2023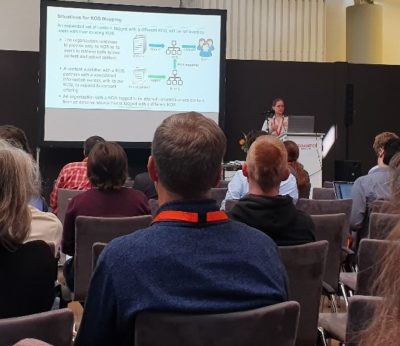 "An Introduction to Knowledge Graphs"
Description: There is a growing interest in knowledge graphs to organize information and make it findable in organizations with large amounts of data and content. Unlike other data technologies, a knowledge graph has a structure that is typically based on a taxonomy and ontology, and thus should involve information architects. Knowledge graphs also have more benefits than information findability, including discovery, analysis, and recommendation. Knowledge graphs bring together content and data.  This session explains what a knowledge graph is and how it is built, with a focus on ontologies. It also presents examples and standards.
Date: Thursday, March 30, 11:00 – 11:45 am CDT
Organizer: Information Architecture Conference
Location: InterContintental Hotel New Orleans, New Orleans, LA
Registration: Early bird conference registration ends February 2. Register here.
"Taxonomy For Delivering Targeted Technical Content"
Description: There are multiple ways that a taxonomy, as the intermediary between users and content, can deliver technical content in a more targeted or even personalized way. These include having distinct taxonomies for different audiences, segmenting a taxonomy, using alternative labels, providing varied taxonomy displays and interactions, implementing UI customization features, and semantically enriching a taxonomy to enable recommendation. This session will also answer questions about the book The Accidental Taxonomist, 3rd edition.
Date: Wednesday, April 12, 1:00 – 2:00 pm EDT
Format: Live online, and recording will be available afterwards
Organizer: The Content Wrangler and hosted by BrightTALK
Registration: Free. Registration is open now.
"Knowledge Hub Creation Challenges and Solutions"
Description: An enterprise knowledge hub brings together content from multiple repositories, applications, or silos with a single search and retrieval application. Challenges include defining the scope of content, purpose, users, and the taxonomy to tag the content and serving different uses. A case study presents tips and issues in setting up a knowledge hub that is combined with external user documentation.
Date: Tuesday, April 18, 1:00 – 2:00 pm EDT
Format: In-person
Organizer: ConVEx Conference, organized by CIDM "an immersive experience for Content Developers"
Location: Kimpton Monaco Baltimore Hotel, Baltimore, MD
Registration: Conference registration is open. Register here.
"Taxonomy Basics"
Description:
Part 1: What are taxonomies and why are they useful?
– A brief history of taxonomies including standards
– Why are taxonomies needed?
– Helpful definitions
– The benefits to organizations
– Different kinds of applications (for example, Digital Asset Management, content management systems, tagging, websites, search, data management, machine learning)
Part 2: Taxonomy project basics
– How to initiate a project
– Basics of taxonomy construction
– User testing and validation
– Facilitating business adoption
– Governance and maintenance – high level principles, best practices, importance
Part 3: 'Ask us Anything' Taxonomy Question Time jointly with Helen Lippell.
Date: Wednesday, April 26, 14.00 – 16.30 BST / 9:00 – 11:30 EDT
Format: Live virtual (Zoom)
Organizer: Taxonomy Boot Camp London
Registration: £59.00, Register here
"Taxonomy-Driven Ontology Design"
Dates: May 8 or 9 TBD
Format: In-person and simultaneously streamed online
Organizer: The Knowledge Graph Conference
Location: Cornell Tech Campus, Roosevelt Island, New York, NY
Registration: In-person and virtual options
Will also be a the PoolParty exhibit booth.
AI & Machine Learning Summit moderator
Data Summit
Date: May 11
Location: Hyatt Regency Boston, Boston, MA
Registration: Early rate through April 7
"Maintaining and Managing a Changing Taxonomy: Taxonomy Governance Fundamentals"
and
"Introduction to Knowledge Graphs"
Dates: May 16 – 19
Format: Asynchronous on-demand virtual (recorded)
Organizer: MLA (Medical Libraries Association) / SLA (Special Libraries Association)  joint conference
Registration: In-person + virtual or virtual-only options
SEMANTiCS Conference
Presentation TBD, but will be at the PoolParty exhibit booth.
Dates: September 20 – 22
Format: In-person
Location: HYPERION Hotel, Leipzig, Germany
 "Taxonomy Enhancements for SharePoint"
Date: Wednesday, October 11, 9:00 – 9:45 am EDT; 14:00 – 14:45 BST
Format: Live virtual (Zoom)
Organizer: Taxonomy Boot Camp London
Registration: opens in mid-February
LavaCon Conference
Presentation TBD, but will be at the PoolParty exhibit booth.
Dates: October 14 – 17
Format: In-person
Location: Manchester Grand Hyatt, San Diego, CA
Registration: Register her
---
Book Sale and Signing Events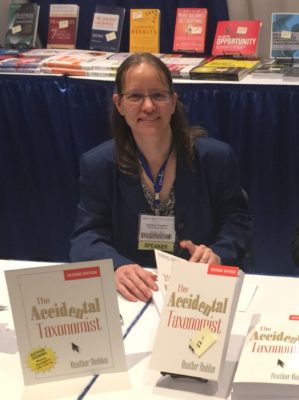 Heather Hedden signs copies of The Accidental Taxonomist, offered for sale at a conference discount at many of the conferences at which she speaks. Book discounts are also sometimes offered for online orders associated with virtual or hybrid conferences.
The next conference at which books will be available for sale (at a 15% discount) and will be signed is:
World Information Architecture Day, March 4, 2023, Manchester, NH