Upcoming Presentations and Workshops
"Fast Track to Knowledge Graphs and Semantic AI" (full-day pre-conference workshop)
Leading Module 1 of 3: Taxonomies and Ontologies – Theory and Practice
The morning module provides the fundamentals to the use, standards, design, and creation of knowledge organization systems (KOS) as knowledge models, which include taxonomies, thesauri, and ontologies. Hands-on exercises will focus on best practices for the creation of concepts and relationships. The afternoon modules, led by the copresenter, Andreas Blumauer, are on knowledge graphs and semantic AI.
Workshop learning outcomes
Organized by: SEMANTiCS conference
Location: Karlsruhe, Germany
Date: Monday, September 9, 2019, 9:00 am – 5:30 pm
Register: €107 (€90+19% tax)
"Mapping Taxonomies, Thesauri, and Ontologies"
To leverge the most of linked data and knowledge graphs and to allow access to more content, it may be desirable to map one knowledge organization system (taxonomy, thesaurus, or ontology) to another. This session presents the fundamental principles of mappings or crosswalks between vocabularies, their uses, approaches, methods, tools, standards, and issues. It then continues with a brief case study or two to illustrate the issues in mapping.
Organized by: SEMANTiCS conference
Location: Karlsruhe, Germany
Date: Wednesday, September 11, 2019, 11:45 am – 12:15 pm
"Taxonomy and Metadata Design – Getting to Grips with the Basics" (half-day workshop)
This workshop is the ideal starting point for those with little or no experience in creating taxonomies or descriptive metadata. Heather is the author of The Accidental Taxonomist, one of the most important and useful books available in this field. The session gives attendees an overview of the definitions, types, examples, use cases and standards for taxonomies and metadata. It then covers planning and designing, and best practice in taxonomy creation. The session includes interactive exercises so that attendees can try out the concepts and take their first steps into the world of taxonomy development.
Workshop outline
Organized by: Taxonomy Boot Camp London
Location: London, United Kingdom
Date: Monday, October 14, 2019, 10:00 am – 1:00 pm
Register: £180 (£150 + £30 VAT)
Managing taxonomies for Success: "Selecting Software for Taxonomy, Thesaurus and Ontology Management"
This presentation provides an overview of the types, leading products, and considerations in selecting software to manage a taxonomy, thesaurus, or an ontology. Excel is often used for starting taxonomies, and some content management systems have basic taxonomy features. However, if you need additional functionality, such as customized relationships, auto-categorization and taxonomy use in multiple applications, there are a variety of tools, modules, features and functionalities to consider.
Organized by: Taxonomy Boot Camp London
Location: London, United Kingdom
Date: Tuesday, October 15, 2019, 11:10 am – 12:10 pm
Taxonomy Interoperability and Linked Data: "A Brief Introduction to Knowledge Graphs"
This brief 20-minute presentation, part of a larger session, will explain the definitions of knowledge graphs, their requirements, common features, examples of uses, and how they relate to taxonomies and ontologies.
Organized by: Taxonomy Boot Camp London
Location: London, United Kingdom
Date: Wednesday, October 16, 2019, 2:50 – 3:35 pm
"Managing Taxonomy Tagging"
A taxonomy is useful only when it is properly tagged to content, which is not always a given! Hedden and Casey look at various issues in tagging with a taxonomy, including the benefits and drawback of manual vs. automated tagging and how taxonomy design can suit the method of tagging. Tagging interfaces and rules are also important, whether system-enforced or as policy. Black discusses how to manage large tagging projects when a taxonomy must be applied quickly to large collections of content for new system launches, such as a DAM or CMS. Hear about bulk tagging approaches, training short term tagging teams, and doing tagging quality assurance.
Organized by: Taxonomy Boot Camp
Location: Washington, DC
Date: Monday, November 4, 2019, 5:15 – 5:00 pm
---
Book-signing Events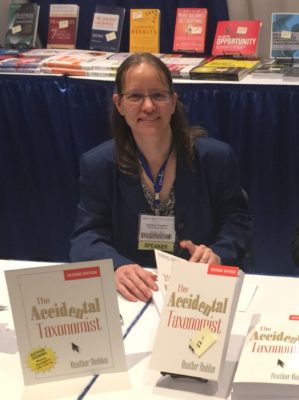 Heather Hedden signs copies of The Accidental Taxonomist, 2nd edition, offered for sale at many of the conferences at which she speaks.
Upcoming book-signing events include those at during the evening receptions at Taxonomy Boot Camp London (October 15, 2019) and Taxonomy Boot Camp (Washington, DC, November 4, 2019). At those two conferences the book will be sold for a 40% discount.
Check back later for details of the book-signing times.