Upcoming Events 2022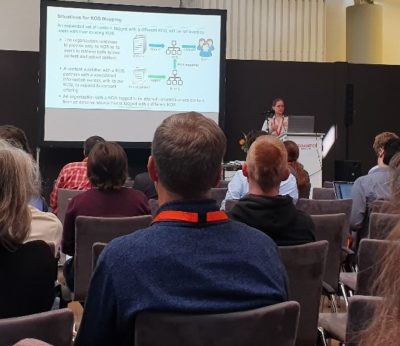 "From Taxonomy to Ontology" workshop
Description: While taxonomies support findability and information retrieval, ontologies support additional information retrieval methods, such as enabling complex queries, the exploration of different relationships, and quick access to associated data, and not just content. The Semantic Web standards, upon which modern information ontologies are built, have brought ontologies more closely aligned to taxonomies and other knowledge organization systems, than the merely computer science use of ontologies of the past. Integrating ontologies with taxonomies has many practical applications, which increasingly more companies and organizations are implementing. This educational session teaches the fundamental principles of ontologies for information science, including their definitions, types, standards, benefits, and uses, including knowledge graphs. It then instructs by ways of examples, how to extend a taxonomy to become an ontology, and then addresses issues in modeling and designing ontology classes, relations, and attributes, including best options and practices. Tools and technologies will also be addressed.
Date: Thursday, July 14, 2:00 – 4:30 pm EDT
Format: Live online (Zoom)
Organizer: SLA (Special Libraries Association) Continuing Education Workshops
Registration: $100 for SLA members, $150 for nonmembers

"Current Challenges and Advanced Taxonomy Topics"
Description: This panel will cover advanced taxonomy topics, including common and current challenges taxonomists are facing in their jobs along with various business and use case discussions. The panel will also have career discussions around what separates a senior position from a junior position and how to take the next step in your taxonomy career. Participants will obtain a grasp of common and current challenges faced by taxonomists in their roles, understand how to apply taxonomies in various advanced use cases, know more about career paths for advanced taxonomists.
Date: Sunday, July 31, 4:30 – 5:30 pm EDT (Session C2)
Format: In-person (and hybrid)
and
"Research Sources and Methodologies for Taxonomy Development"
Description: This session explores the information sources and research methodologies available to those who are starting out in taxonomy development. Information sources discussed include publicly available taxonomies and ontologies, and authoritative vs nonauthoritative sources. Research methodologies include card sorting, tree testing, actionable recommendations, content analysis, and the use of metrics in development and maintenance.
Presented jointly with Marisa Hughes, Taxonomist at the American Psychological Association.
Date: Monday, August 1, 4:30-5:15 pm EDT (Session F2)
Format: In-person
and
"Communities of Practice: Where Everybody Knows Your Name"
Description: Communities of Practice (CoPs) can be invaluable for connecting people with common goals and interests and facilitate the sharing of knowledge, resources, and more. Sharing best practices and knowledge can result in better ideas, innovation, and improved culture. Join this session to learn more about what a community of practice is, considerations for designing and growing your CoP, and strategies for success in maintaining a CoP.
Date: Tuesday, August 2, 9:00 – 10:00 am EDT (Session G4)
Format: In-person (and hybrid)
Organizer: SLA (Special Libraries Association) Annual Conference
Location: Charlotte Convention Center, Charlotte, NC (and online)
Conference registration (Register by July 1 for early bird rate)
SEMANTiCS 2022
Format: In-person (and hybrid)
Location: Vienna, Austria
Dates: September 13 – 15
Tutorial will be announced soon.
"Practical Tips for Setting up Taxonomy Governance"
Description: We all know the importance of creating a well-designed taxonomy, but if it is not maintained properly, over time its quality and value will decline. Governance comprises the policies, guidelines, and procedures for the design, implementation, and maintenance of a taxonomy.  This introduction to taxonomy governance addresses its scope and issues. Specifically, taxonomy policies and guidelines include criteria of including new concepts, editorial style for labels,  guidelines for relationships and alternative label creation, and workflow procedures.
Organizer: Bite-sized (virtual) Taxonomy Boot Camp London
Format: Online (Zoom)
Date: Wednesday, October 12, 11:00 – 11:45 am EDT / 14:00 – 14:45 BST
"Enhancing Your SharePoint Term Store Taxonomy and Tagging"
Description: Are you wondering how you can get more value from tagging in SharePoint? The Term Store is more than just a place to store terms or metadata. Full taxonomies with browsable hierarchies, search-support synonyms, definitions, multilingual terms can be supported and utilized in multiple ways. Leveraging a taxonomy's benefits, however, requires creating a taxonomy according to best practices and standards and applying the terms with consistent tagging policies. This session will provide tips for creating better taxonomies, recommendations for enterprise taxonomy governance, and a solution for auto-tagging integration with the SharePoint Term Store to ensure efficient, comprehensive, and consistent tagging, which results in improved content findability and user satisfaction.
Organizer: North American Collaboration Summit
Format: In-person (and hybrid)
Location: Branson, Missouri
Date: October 13 or 14 (TBD)
"Using Taxonomies and Tagging to Connect Content Across the Enterprise" half-day workshop
Description: Content management systems provide support for taxonomies to tag content for retrieval within those systems. But to break down information silos and make content searchable and discoverable across the organization, an enterprise taxonomy is needed. This workshop discusses methods and best practices for building and applying enterprise taxonomies. Methods include brainstorming workshops, stakeholder interviewers, manual content analysis and automated text extraction-based analysis. Best practices include following standards for hierarchical relationships using suitable labels and synonyms for taxonomy concepts and using the right taxonomy structures. The technology solution is to manage the taxonomy in a dedicated tool that uses standard interoperability formats and connects with other systems by APIs, with support for auto-tagging. The workshop includes interactive exercises of cardsorting, hierarchical relationship and alternative label creation, and a manual tagging.
Format: In-person
Organizer: LavaCon
Location: New Orleans, LA
Date: Sunday, October 23, 1:00 – 5:00 pm
Taxonomy Boot Camp
Format: In-person
Location: Washington, DC
Dates: November 7-10
Presentations will be announced soon.
"Taxonomy and Metadata Design" 8-hour workshop
Format: online on Zoom
Dates: November 14-15, 8:00 am – 12:00 noon EST each day
---
Book Sale and Signing Events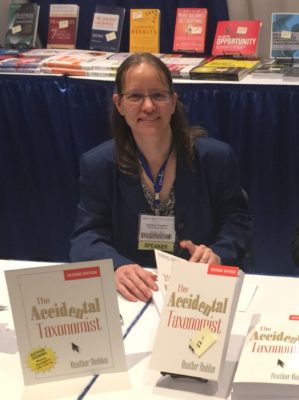 Heather Hedden signs copies of The Accidental Taxonomist, offered for sale at a conference discount at many of the conferences at which she speaks. Book discounts are also sometimes offered for online orders associated with virtual or hybrid conferences.
Next confirmed book-signing will be at KM World conference, November 8-10, Washington, DC. Check back later for details.