Upcoming Presentations and Workshops
"Managing Taxonomy Tagging"
A taxonomy is useful only when it is properly tagged to content, which is not always a given! This presentation looks at various issues in tagging with a taxonomy, including the benefits and drawback of manual vs. automated tagging and how taxonomy design can suit the method of tagging. Tagging interfaces and rules are also important, whether system-enforced or as policy.
Organized by: Taxonomy Boot Camp
Location:  Washington, DC
Date: Monday, November 4, 2019, 4:15 – 5:00 pm
---
Book Sale and Signing Events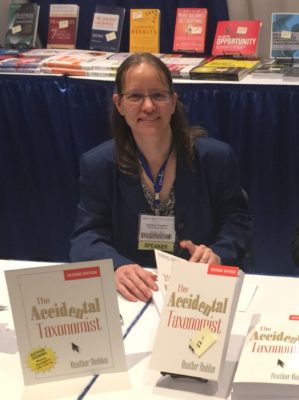 Heather Hedden signs copies of The Accidental Taxonomist, 2nd edition, offered for sale at many of the conferences at which she speaks.
Copies of the book will be available for sale at the Information Today Inc. booth in the Showcase (exhibits), at the KM World conference (and co-located conferences, including Taxonomy Boot Camp), in Washington, DC, November 4 – 6, 2019. A book-signing event will take place at the booth during the Showcase Grand Opening Reception, 5:00 – 6:00 pm, on Monday, November 4.
At the KM World booth of Information Today Inc., the book will be sold at a 40% conference discount.