Upcoming Presentations and Workshops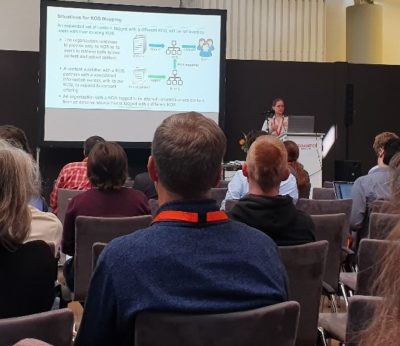 "Connecting Users to Content: An Introduction to Taxonomy Design & Creation" workshop
IAC (Information Architecture Conference)
Date: 6-hours over three days: Wednesday-Friday, April 21-23, 2:00-4:00 pm ET each day (virtual/online)
Description: Taxonomies have evolved from classification systems to adaptable interactive tools to link users to desired content on websites, intranets, and web applications. Taxonomies are not the same as a website's navigation and can do a lot more. Taxonomies can provide guiding categories of topics, suggested search terms, aspects for faceted search, or topics for sorting and filtering results. To be truly helpful, however, taxonomies need to be well designed to suit the users and use cases, be customized to the content, and conform to taxonomy best practices and standards so that they are easy and intuitive to use.
This workshop teaches taxonomy creation principles and addresses the issues of designing a taxonomy to serve users. It presents best practices in designing taxonomies, including the principles of wording of terms, incorporating synonyms, creating relationships between terms, and designing hierarchies and facets. Other topics include taxonomy project planning, sources for terms, and taxonomy testing. The workshop will also include practical exercises and access to taxonomy management software.
Registration link. Multi-day workshop $200 ($75 for students)
"Foundations for a Knowledge Graph: Taxonomy Design Best Practices" tutorial
Knowledge Graph Conference
Date: Monday, May 3, 9:00 am – 1:00 pm ET including breaks (virtual/online)
Description: While taxonomies are easier to design and create than ontologies, too often they are created without any skill or training, and poorly designed taxonomies yield poor results. This tutorial will cover the basics and best practices in taxonomy design, including: types of controlled vocabularies, standards, sources for topical concepts, wording of labels, alternative labels, hierarchical and associative relationships, and governance. This tutorial also explains the approach of semantically enriching an existing taxonomy to become an ontology by adding a semantic layer of an ontology or custom scheme.
Registration link. Full conference (including three other half day-tutorials/workshops and two days of conference sessions) $249.
---
Book Sale and Signing Events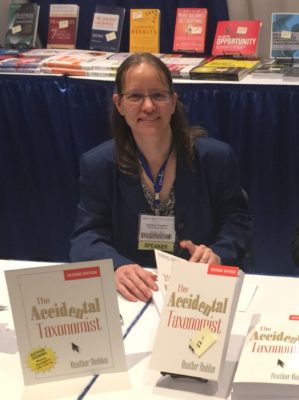 Heather Hedden signs copies of The Accidental Taxonomist, 2nd edition, offered for sale at a conference discount at many of the conferences at which she speaks. Book discounts are also sometimes offered for online orders associated with virtual conferences.
Check back in fall 2021 for information on future live conference appearances.